Adoptable Pets
Welcome to our Adoptable Pets page. We update our page daily so please check back often.  Our dogs and cats posted are almost all located at our shelter at 39 Smith Street, Danbury, CT 06810, but some are fostered in homes and we will need to schedule adoption meetings for them.
All of our dogs and cats are fixed, up to date on shots, and microchipped.  Click here to download our Dog Adoption Application (Word)  or Cat Adoption Application (Word).  DOG ADOPTION APPLICATION (PDF) or Cat Adoption Application (PDF).
Please email completed applications to adoption@tailsofcourage.org, fax to 717-743-2772 or call 877-63-TAILS Ext. 708 with any questions.  When calling, please leave a detailed message.  If you do not leave a message, we will not be able to return your call. 
Our Adoption Rules are as follows:
We require a fully completed application for adoption which must be approved prior to adopting a pet.  When submitting an application please notify your references and your veterinarian that we will be calling.  If a reference does not call us back we will not be able to approve your application, or it will delay your application.  

If you have other animals in your home ALL must be up to date on vaccinations, and must be fixed or have a medical reason confirmed by your veterinarian why they are not

You may still come to the shelter to meet a pet for adoption but will not be able to adopt unless your application is approved
At the shelter there are programs for kids, teens and special needs individuals in progress.  One of these individuals may be assisting you in the adoption.  Please help them learn and be patient.  Every volunteer is doing their best to help!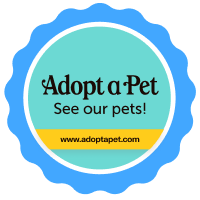 Hours
Adoption hours: 9AM – 5PM every day
No appointment is necessary to meet your potential fur-ever friend!
Directions to the Shelter:
I-84 West to Exit 5, make a right off the exit, first right under the overpass, then first left.  Street parking is available.
I-84 East to Exit 5, first left off the exit onto Smith Street, last building on the right.  Street parking is available.